One of the best ways to gain investing knowledge is by learning from the best. Here is a list of the top seven best investment books that you can read to give your investment know-how a boost.
Rich Dad Poor Dad
Rich Dad Poor Dad is at the top of this list because it is a classic personal finance book. It is also one of the best investment books in the world. The book is so popular and influential that it has been translated into 51 languages and is available in 109 countries.
For more than two decades, Robert Kiyosaki has challenged readers to change their perspectives about money. Growing up with two dads – his real father and his best friend's rich dad – Kiyosaki shares what he learned from the two.
Some of the things you will learn from this book include:
You do not need a high income to become rich
You cannot rely on schools to teach your children about money
The distinction between working for money and having your money work for you
The Little Book of Common Sense Investing
John Bogle is big on investing smartly. In this book, he shares his investment tactics and what has worked for him. That is why the Little Book of Common Sense Investing: The Only Way to Guarantee Your Fair Share of Stock Market Returns is one of the best investment books currently on the market.
Bogle is a pioneer of mutual funds, which means that he knows what he is saying. For instance, he reveals that you can get more out of investing by focusing on low-cost index funds.
Other investment recommendations include:
Building wealth over the long-term
Buying and holding mutual funds that track broad stock market indexes
Describing this book, Warren Buffet said: "Rather than listen to the siren songs from investment managers, investors – large and small – should instead read Jack Bogle's The Little Book of Common Sense Investing."
The new edition of this investment book has two new chapters on asset allocation and retirement investing. Bogle published the first edition in 2007.
The Intelligent Investor
True to our theme on smart investing, The Intelligent investor is a well-loved book in the investment industry. Again, Warren Buffet appears to love this investing book as well with his depiction: "The best book on investing ever written."
Benjamin Graham takes a realistic approach to investment. He advises investors to concentrate on loss minimisation instead of profit maximisation. Therefore, this book is for the rational investor that uses discipline, research, and analysis to make investments.
Graham published the first edition in 1949. Since then, it has been updated for modern times.
Some of the lessons that you will learn from this book are:
Know the business you are investing in
Invest with a margin of safety
Believe in your observations and analysis
Thinking, Fast and Slow
Is there a connection between psychology and investing? According to Daniel Kahneman, there is. Your psychology of decision-making and judgment plays a significant role in the investment decisions you make, Kahnemann claims in Thinking, Fast and Slow.
As a result, Kahneman, a psychologist, teaches readers how to identify the biases that affect their investment decisions. Also, he tells readers how they can lock those biases away so that they can make rational and analytical investment decisions.
The book does not only focus on investment. It also gives insights into how human beings can make better decisions in their financial and personal lives. That makes this book one of the best investment books today.
Kahneman released Thinking, Fast, and Slow in 2011. Also, he is the 2002 Economic Sciences Nobel Prize winner.
When you read this book, you will learn about the following:
The two systems that influence how we think
The difficulties of foretelling what will make us happy in the future
The Four: The Hidden DNA of Amazon, Apple, Facebook and Google
How is it that four companies have managed to dominate our lives? What are they doing that other businesses have failed to do? Scott Galloway answers these questions and many more in The Four: The Hidden DNA of Amazon, Apple, Facebook, and Google.
He dissects the four companies to illustrate that they are not as perfect as we might think. These companies have made mistakes along the way, but they have recovered and continued to stay at the top. Moreover, he looks at how they manipulate fundamental human emotional needs to succeed.
When you read this investing book, you will discover:
The mistakes these four companies have made
The strategies they used to get to the top and how you can use them to succeed in your business or career.
One Up on Wall Street
The main lesson that stands out from most of the investing books on this list is investing in what you know. Peter Lynch gives the same advice on One Up on Wall Street. He also says that investment opportunities are everywhere. All you have to do is identify which companies will succeed and which ones will not. But how can you do that?
Lynch provides guidelines that investors can use to review company financial statements. Also, he tells readers which numbers really matter.
Here are a few of the main takeaways:
Always invest in the long-term for better rewards
Invest in companies you know
A Random Walk Down Wall Street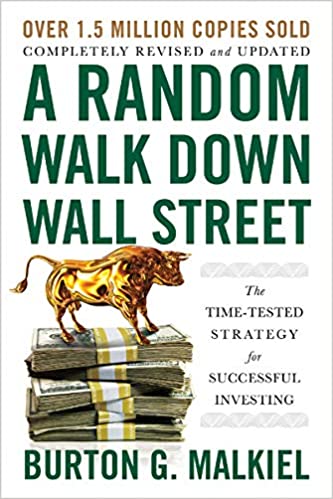 A Random Walk Down Wall Street: The Time-Tested Strategy for Successful Investing is suitable for investors who are just starting to manage their first portfolios. Like some of the other authors on this list, Burton Malkiel proposes long-term investments over schemes that promise quick returns.
The book was originally published in 1973. Since then, it has been updated to keep up with the changes in the stock market. Also, the book mentions next-generation investments like bitcoin.
Some of the lessons you will learn from Malkiel's book are:
It is futile trying to predict the changes in the stock market. That is why investors should deploy a long-term investment strategy
The common mistakes beginners should avoid when getting started
Whether you are a newbie or a seasoned investor, these are some of the best investment books that will inspire you to up your investment game.