Did you know that you can legally buy stolen goods in the UK? When the police fail to trace the owners of stolen items, they put them up for sale on auctions. These police auctions are a great place to get a bargain.
Continue reading to find out how you can buy stolen goods legally in the UK.
What Are Police Auctions?
Police auctions are physical or online marketplaces where law enforcement departments sell stolen goods. Since the police cannot store stolen items for long periods, they sell them at auctions if they cannot trace them back to the owners. The income that law enforcement generates through these auctions goes towards charity donations and policing work.
If you find your stolen item in a police auction, you can reach out to the police with evidence to claim it. Therefore, when the original owners come forward to claim their goods, law enforcement can cancel auctions at the last minute.
Examples of goods that you can buy from police auctions include cars, jewellery, household items, cameras, handbags, shoes, game consoles, and bikes. Online listings do not include a lot of information about goods but they do have photos of the items.
Before purchasing an item, compare the price to other online sites. While police auctions sell goods affordably, it does not mean that they have the cheapest price.
Where Are UK Police Auctions Held?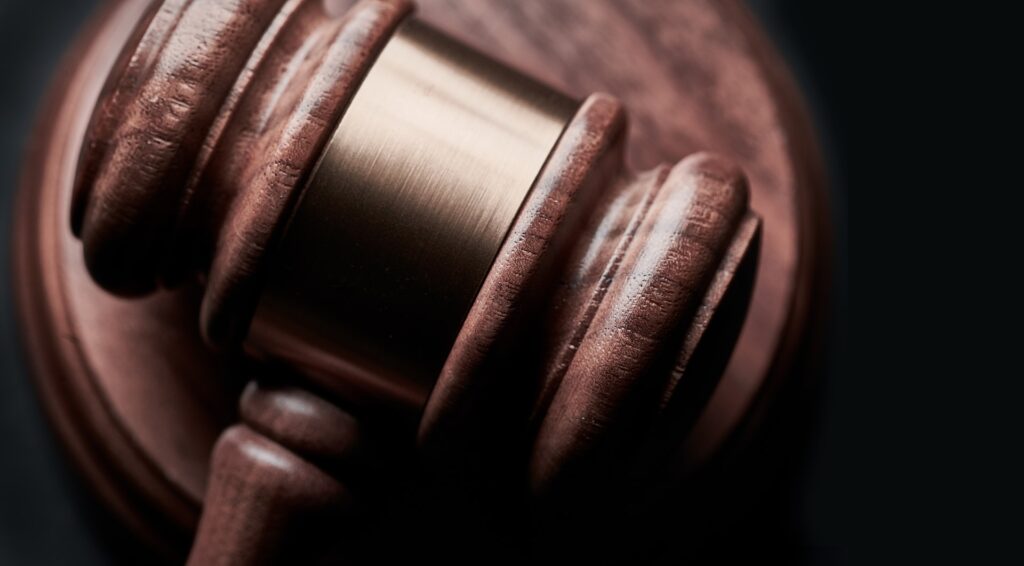 You can find UK police auctions online or at auction houses. That means that you can Google and find police auctions with items for sale. Alternatively, you can call your local police constabulary to find out where they sell unclaimed stolen goods.
Below are three places where police forces in the UK hold auctions.
Bumblebee Auctions
Bumblebee Auctions is a national police website that sells stolen or lost goods. On this site, users can view and bid on items that police forces around the UK are selling.
The website is like eBay, but less user-friendly. Items on sale change daily, and buyers have to collect their packages in person. Therefore, check which force is selling an item before you place a bid. Moreover, you typically pay about £5 to £8 for delivery.
The other difference between eBay and Bumblebee is that you cannot snipe an item. Sniping means watching other potential buyers place their bids as you wait for the last few seconds to place yours so that you can win the item. If you place your bid in the last ten minutes on Bumblebee, the auction period increases by another ten minutes.
To start using Bumblebee, create an account with online payment platform Nochex, and link it to your bank account. The process could take up to three days.
Nochex will charge your bank account an admin fee of £2 or less to confirm that the account is yours. The fee is non-refundable. As a result, make sure that you will use your Bumblebee account before starting the registration process.
After setting up your Nochex account, create an account on Bumblebee, and start bidding. Remember to use the same email address to register both accounts.
Some of the categories on Bumblebee include antiques, books, bicycles, watches, tools, sculptures, purses, toys, luggage, and mobile phones. The site only lists a few items at a time.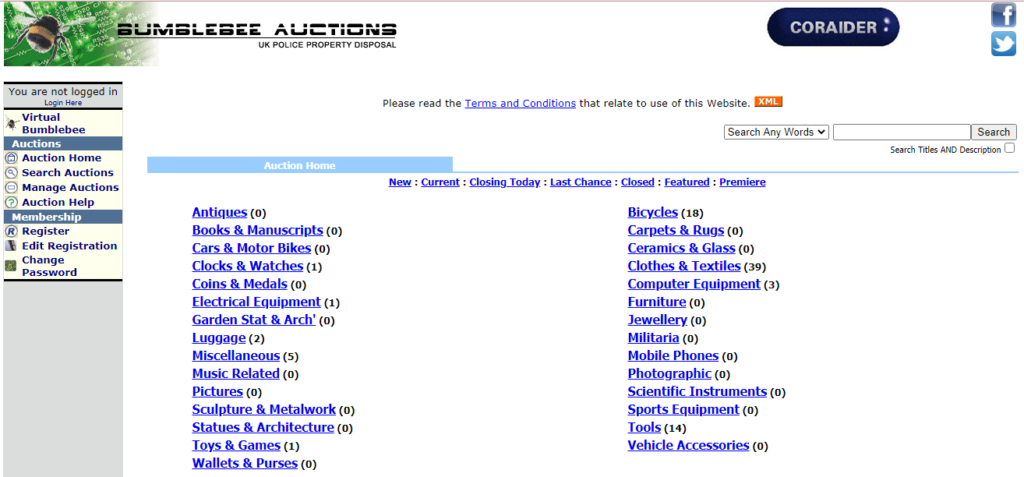 Police eBay Stores
Some police departments in the UK have set up official stores on eBay where they sell unclaimed merchandise. For example, Cheshire, Leicester, Nottinghamshire, Thames Valley, Sussex, and Devon and Cornwall police forces have stores on eBay.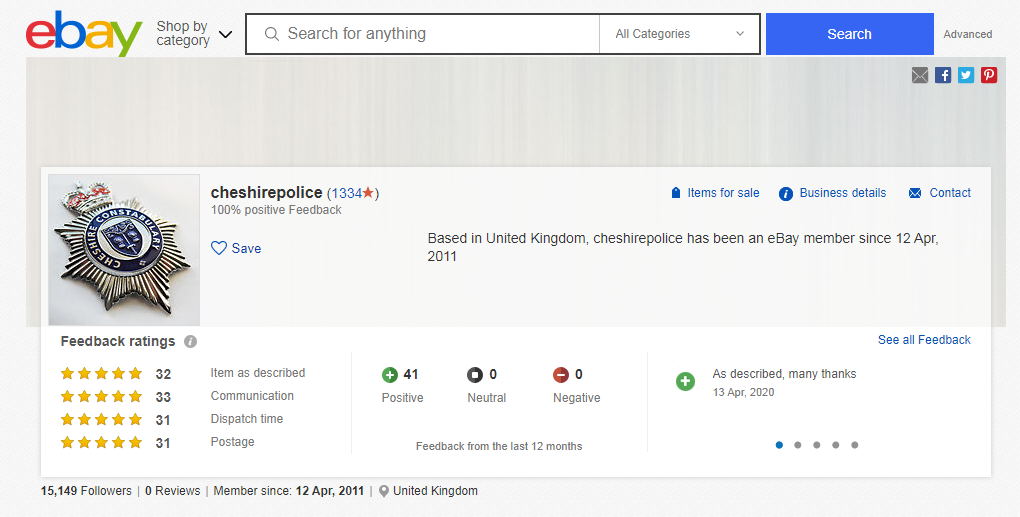 Check the website of your local police force to find out if they have an eBay store. Conversely, you can just call them to find out.
Generally, the small auction items on these eBay stores have delivery options. However, larger items do not. Therefore, before purchasing a large item, make sure that you can collect it from the headquarters of the police force.
Furthermore, some items on these police eBay stores have an option to "Buy it Now." Therefore, you do not need to bid on such goods.
Auction Houses
Besides selling recovered items online, some police departments use auction houses. These are physical places where you will have to visit to make bids on merchandise.
To find upcoming auctions, visit the website of your local police force or search online for police auctions in your locale. For instance, type in your browser 'police auction Cheshire.' In the search results, you will probably find auction houses that sell items on behalf of your local police force.
Once you find an auction house, note that you will have to register with them before you can bid. Moreover, you will have to pay a buyer's premium of about 15 to 20 percent and VAT on top of the items selling price.
Auction houses are ideal for selling large goods like cars because buyers can take them home on the same day. Also, some auction houses allow buyers to view items the day before so that they can decide which items to bid.